early bird gets the worm!
no school = GARAGE SALE EVERY DAY FOREVER!
i am so proud of myself, to think i didnt want to get out of bed today for this.
holaaay smokes!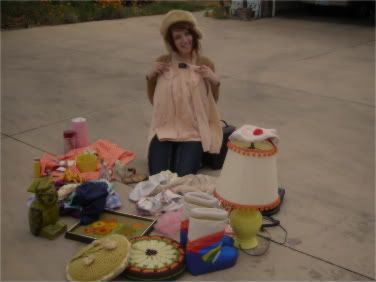 check out those boots!
that lamp!
got the best sweater ive ever seen, even better than one i found at estate sale warehouse a few weeks ago, which ive been hankering for ever since. its peach,too! alot of shirts, boys shirts from the late seventies or eighties, but im keepin em unless one of the boys i know looks just so absolutely dashing that i couldnt feel good about wearing them ever again.
a cute icecream scoop..
pillows!
and lots of other things.
for me, hapiness is a good garage sale.