bryan and took a trip out to clairemont/claremont/clairmonte (?) yesterday for a special purchase. it was a good day for us, and one i wanted with him. we missed a coaster that we didnt need to take, hopped onto the correct one with the help of a nice security guard and without the help of the permed woman behind the counter. but thats alright, because i would be upset if my uniform was an aloha shirt,too, i think.
we had lunch, one that was tasty and i want to duplicate. we got off at the wrong bus stop and spent an hour or so waiting for a new one with wierd directions from a man with fishing poles. bryan had his eyes closed which was the best thing to do, but everytime i looked up someone was watching me out from their window at the red light with nothing better to do, and it made me uncomfortable.
before too long at all, we arrived at our point b, did what we came to do and were out the door, than many more doors of busses, into doors of coasters, and eventually our front doors when our day was done. the whole day made me happy.
i wore a fiddler on the roof outfit, and a new purse, one with the wrong monogrammed initials on it, like a few other nick-nacks of mine. it carried important things for us, like sunscreen, change, tickets, emergency dirty snacks, and one mysterious brown paper sack.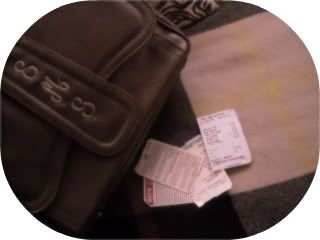 outside ..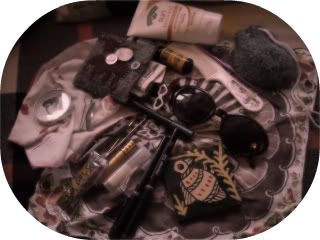 .. and in!
hotsauce,hankies, a recycle later bag for the trash small enough to carry, mirror, extra makeup, chapstick always and forever, my homemade wallet, sunscreen, bobby pins, a crochet hook and my Rice Krispy comb are with me most of the time. and you cant see really well, but that hankie on the bottom has a flower on it that turns into a girl.
sometimes having useful things makes me feel useful.