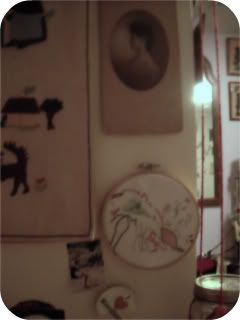 i found a small cuckoo clock today at the swapmeet. its missing the key that winds it up, so it wont ever make any noise. inside of it, im putting all of bryan's notes.
today i cleaned my room, dusted, put my closet door back on,put up a new curtain and folded all of my clothes. it felt nice inside. i wish i could spend time doing something right now, but all i really want to do is sleep. im hemming a dress by hand that could use a few inches off, and after that its night time for real.
its a shame that i cant look forward to tomorrow and know it will be better than today, because it never surely will be, and ive learned lately, especially, that i cant count on other people to change their tune without my help.
a pile of clothes to sit on my sewing machine chair until i can fix them. the checked shirt will go well with a pair of green shorts i recently bought, and the seersucker dress might look nice someday, but i dont know how ill fix it.