one of my current frustrations lies in my XXxXSiDeBaNgSXxXX. theyre a little juvenile, not particularly flattering (though more flattering on my face than straight-across bangs), everybody and their cousin has a set, and id like to have a more stylsh cut. im not sure what to do with them after i grow them out,though- part them in the middle, or off to the side..we'll see. i think i just have to commit, and i mean really commit, to growing them out with as few trims as possible, no matter how gruesome they get.
im embroidering today a new little piece to put in an ovular frame ive bought a while ago. im making the cover of a childeren's book,called "I Can Fly!" and it will be cute, with the chubby little girl dancing on a hill and all of the animals socializing and talking about her. its going on my newly cleared off 2nd to last shelf, where my fabrics used to be, but now are stored in my sewing area, and have been replaced by my mom's old Nancy Drew books.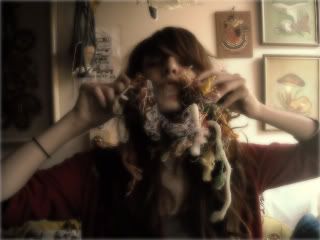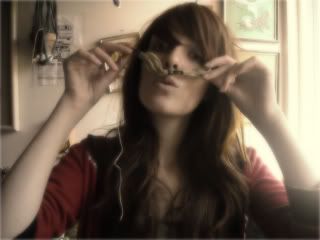 yesterday i didnt even work on my driver's school, but today i will. i might.
and i swept, tied up all of my yarns so they dont get tangled up again, folded up all of my scrappies that i cant throw away, and the whole place looks alot neater.