i went garage/estate saling this morning with my mom. we stopped at my mom's friend's garage sale, where i bought a denim,ruffled skirt to fix, a white, pleated, eighties dress to fix, and a plaid camping shirt, which i dont think im going to do anything to, except mabye embroider something pretty on the pocket. also, a needlepoint bingo purse, with a bunch of different colored bingo markers and equiptment inside.
next was the garage sale of a very sweet family, where we bought for jens like fifteen records or something, and my mom and my dad and i picked out a few too. i got three old books, a childerens collection of dog stories like old yeller, a book on nature and the world, and a really pretty book on proper english grammar. i also bought a lifetime supply of elastic (which was the most useful find of the day) and a frame.
the last estate sale was filled to the brim with trims and buttons and even animal pelts (which i couldnt bring myself to buy, even though i figured i could do something really interesting with them) and i bought a massive box of old buttons for three dollars, and a big jar of buttons for a dollar, and inside the box the buttons are really old and really pretty, and one of the manufacturers is "sierra brand", which ill let jens have to give to his girlfriend whos name is sierra.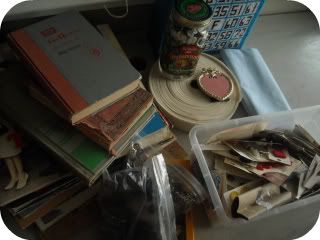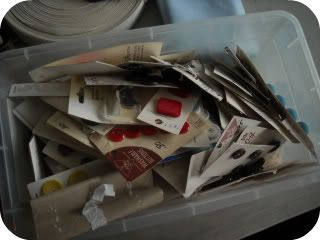 i dont know what do do with all of these buttons! but i may put together a pillow like the one i posted a few months back, the one with lots of little white pearly buttons sewn on.