i dont really consider myself a collector at all, i wouldnt buy something i didnt really really like just because it fit into a theme, nor would i spend alot on a collectors item, i dont know much about manufacturers of nic-naks or anything like that..but after doing as much junk sifting as i have, i find myself with alot of re-occuring themes and sometimes little chachkis that i never even went out looking for in the first place.
one on those themes that never really blossomed were kittens. i only have about 3 decorative kitten things, but my mom has a couple little ones here and there. suprisingly, because id say im more of a cat person, i have a masive collection of dogs, poodles mostly. pictures and wall-hangings and little figures and bowls and boxes and probably even jewlery. of course, like any other girl with an appreciation of vintage wares, i have a big owl/mushroom collection( i have a mushroom blouse and a mushroom apron,too). im always suprised by the mushroom print on kitchen items,though, like canisters..it would seem that the can contained poison or something, i would be suspicious if i didnt know better. but if the old woman with the canister really had poisonous mushrooms inside, then she would be even more vintage-savvy than me, with her old fashioned methods for killing strangers.
this jewled kitty head fell off a kitty body after i hit my head on the shelf it sat on, bending over to pick something up and getting back up too fast. i like the look of the decapitated head,though. every once in a while with my collection of old things, i think its important to have some seriously scrappy things to keep things light and in perspective.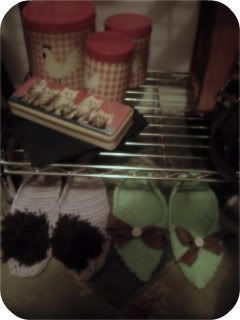 this kitten tin holds some little paint-by-number tubs inside, and i think it makes a cute display on my bottom shelf with the newest set of canisters.those green slippers are my newest, they remind me of our old neighbor, Louise, who crocheted and knitted pairs and pairs and pairs of slippers for people, some with pom poms, some without for boys, and in every color. i still have mine. i almost feel like writing her a letter.
today has been less relaxing than yesterday. when im not fretting about not having anything to do, then im too wrapped up in whatever im making or watching to be disturbed. today i planned out an outfit, made myself up and even brushed my hair, which i gotta remember to do more often, and nothing happened, no calls, nothin. and im not complining, its not a big deal, i just wish that there wasnt a flip-side to that, where when someone calls me ill be in pajamas with zits all over and no idea what to put on.
ive got a few plans for the weekend, ill look good and post more.