finally done with this coat, finally narrowing down the pile of things to finish and i am so relieved.
this coat ive been complaining about/singing the praises of for about a week now so i probably dont need to explain, but i will. its a brickish red coat, was once a calf-lenghth trench, with a fur hood, pretty pockets and just generally full of potential and now is a shortie coat ill probably wear with tights and boots this winter, but right now i cant really imagine stepping out in it because of the sweltering heat.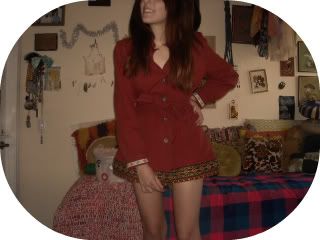 badda bing badda boom
tonight is class, then bryan and i have plans for more music class assigned concerts on thursday and saturday. ill pick out outfits later tonight for both of them. i might also want to consider getting an adequate amout of shut-eye before then, which might mean a little nap right now.