bryan and i headed out to sandy-eggo for more required shows this thursday. we were thoroughly entertained and since the music was really unfamiliar to us, we had alot to pay attention to.
i went with bryan to class and hung around Palomar Community College for some time and i liked it. i plan on going there next winter. the buildings were pretty and so were the little garden areas. bryan and i agreed it was very indiana jones.
after bryan dropped me off, i went to the library and alternated between reading moby dick and knitting various projects i had brought to work on, to stay awake. also i brought the projects because i thought knitting needles and fat skeins of yarn looked neat sticking out from my quilted checkered grandma purse, which i ended up ripping the handle off but thats okay.
then we went to a really tasty vegan indian resturant bryan looked up, and tried a small bit of everything and went back for tiiiiny seconds, but we're healthy so buffets arent our bag, usually. i liked this particular squash dish alot, and the okra was my second favorite.
bryan and i then found things to do around soma after finally figuring out where it was, like getting iced caffeinated drinks, looking around goodwill and a bookstore converted from an old theater. goodwill isnt a thrift store i like, and the price tags on everythig turned me off. but there were some cool things to flip through at the bookSTAR, not including the magazines which were really pathetic and dissapointing.
then SOMA!
my BFF (bryan flynn forever)
and a long ride home, upon which i tried not to fall asleep but found myself imagining things, dreaming while i was awake. i kept imagining the call boxes as skanky girls in white shorts (i really have no idea, but i was positive that was what i was seeing) and the headlights, which i could hardly tell were coming or going, seemed to be houses, christmas lights or apartments laying on their side, until they got close enough for my brain to register as cars.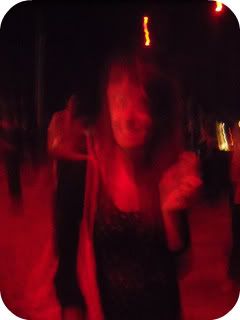 another day has gone by since thursday, bryan came over for soy-ice cream sandwiches this afternoon and pet my head on the way out like a puppy. ill see him tomorrow, at the Che Cafe where were seeing another show. and ill tell you all about it!
goodnight to you, too, bryan!