i havent posted with an outfit or about something im making in a long time, and it makes sense to me that i wouldnt because lately after only having come out of the project, i immediately must plunge into a new one. today my conveyor belt of sewing jobs included: my newly cut-off cut-offs, a new poly paisley dress, a nightie and a special secret nightie that happened to come with it and i didnt even see it, and two teeshirts for my little brother.
this is my new dress,though. i was planning on attaching a giant blonde fake hair braid to the neckline, before i saw how far it dipped in back and realized i didnt have enough. because i wouldnt dream of allowing my underpinings to show underneath my clothing, im sort of forced to go braless in it, which is fine by me and comfortable enough but i hope goes unnoticed by the public.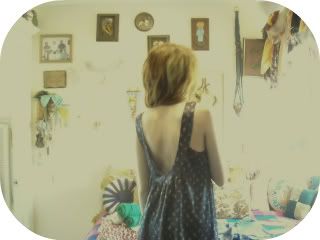 i also made up for its plainness without the fake hair by attaching some pretty ric-rac to the bottom, which i wish i knew a better way of attaching but dont. does anybody know the secret? the ric-rac also came from the pile of trims i found at St. John's yesterday.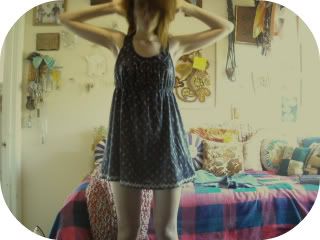 i might wear this with an apron, or pair it with my new gingham patchwork tote for a seventies do it yourself mood which i think i could wear well. this summer hasnt been the best season for clothing and me, i end up in shorts and a teeshirt more often than not. so if bryan and i plan for something today, ill look pretty in this.
in my thrift run yesterday i found this little ceramic elf shoe, i decided it was an elf shoe rather than a dutch clog, and engraved on the underside reads the brand and "1948"! its 61 years old! its now sitting on my shelf, complimenting my ultra creepy seventies doll, and ill soon find some small things to stow away inside.