Bryan has been assigned to review four concerts for his music class, and weve been up to sdsu (thats not actually what college it was but ill just call it that cause i cant remember the other one) this weekend to catch a couple of musicians, jessica lea mayfield and some other lady, who played at the college "Loft". bryan got what he needed from it, we were entertained and happy to be out, and by the end of the night we picked up some life lessons and creaky joints, missing our bus home and ending up in La Jolla, walking around for an empty room like mary and joseph since we didnt want to ask for help from our parents and have them come get us, eventually giving up at 2 am or something and calling bryan's folks.
before all that misfortune, though, bryan and i were having a good time, opting for the coaster instead of a long drive up to the college and enjoying the air conditioning, the view, and eachother.
this is where we live, and this is the bonsall bridge- a pretty, ornate, unusable landmark for people in the area. historic? mabye, im not sure.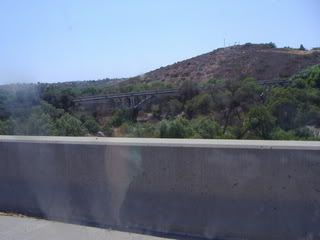 bryan with a cool hairline on the amtrak/train/coaster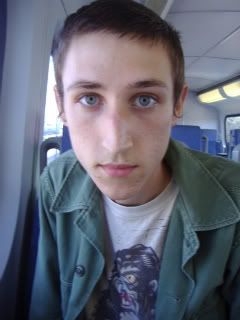 yours, truly, in a new vest and funny face i didnt know i made.
today ive henna-d my hair red, and enjoying the hay-ish smell of the henna mixed with the heat while thrift shopping for some unexpectedly good finds and some other things i was in dire need of, as in some high denim cutoffs (but a plus is these ones are wrangler brand, yippee-ky-yoh!) and some special woven trim ive been searching for to cover some mistakes i made shortening my flying monkey coat and in the family of what i intended to decorate it with even before i made the mistakes. just now i dont have the option of wearing it sans emballishment because my work was so cruddy. also, some really cool chevron printed swim shorts for my little brother, a cool loopy hat much like the one shown in the knit pictures post i did a week ago, some white loafers, a paisley dress, a nightgown, a pretty black velvet dress for formal occasions that ill fix up when i know i have something to go to, and the creme de la creme was a super 70s bellbottom pant and vest combo, in a putty-reddish polyester. i might keep the pants full length just because ill never find another one like it and it would keep it special, or i could trim them off into hotpants for a different appeal..ill see.
today was also largely about homework, and i did it all day as my hair cured, then went to class, and im looking forward to gettin up tomorrow without worry about class later. even though i mustnt allow myself to sleep in anymore, because im pushing it with 7:00 already.