over the last two weeks or so ive been really frustrated with how my hairs been looking and have been searching nonstop for new ways to do my hair, without deep-6-ing the little parts i like to find in my hair like waves im particularly fond of, or keeping ways that my bangs ought to go and things like that.
today i tried my first wet set, mostly because i have alot of free time to spend rolling my hair up, and i always want to use my curlers but arent sure how to get it right. i havent taken out my rollers yet, but ive got a feeling this should work well, judging by the way a few lil locks have fallen out throughout the morning in tiny spirals.
i went on a walk in my curlers and granny scarf-thing and my neighbor was outside washing her car. i wasnt embarassed,though.
ive got this yellow dress that i bought years ago, just fixed a few months ago, but havent worn more than once because i hate the buttons. they were shell buttons and really frumpy, and aside from the buttons in front there were buttons in the back, attaching this wierd little nineties back strap, you know the ones where they button over one another...anyways that strap has yet to be taken care of, but i changed the buttons last night from the shell ones to these cherry red ones, which came out of my new-old button collection.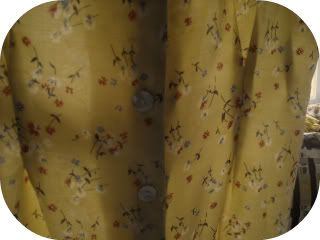 one of the buttons was cracked and split, so i had to change them anyway. i liked the collar on this,though, and the pattern. otherwise i completely stay away from nineties floral dresses.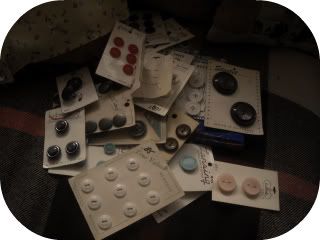 look at these pretty ones! im going to scan some later today for you to enjoy. i was pretty lucky to find cute ones that also came in a set of 8, because these mostly were just sets of two or 4.
its pretty now! and itll be fun to wear. aside from this project ive totally dissected a little number that wont be too hard to hard to fix or too time consuming, and after that ill hem my homemade gold dress and get everything done on it once and for all. i didnt put the zipper in the right place and its a pain to get off, lucky im practically a contortionist when it comes to fitting into things worth the effort to squeeze into.