FRIDAY
walking to the beach (pier? waterfront? shore? im not sure what is the appropriate word)from our hotel was less than enjoyable, as i didnt bring one pair of sensible shoes for the whole trip. these boots might look like the least sensible shoes of any imaginable type, but actually my feet were too swollen from the night before's walk to fit into any other pair, even if they had a shorter heel. my boots ended up ripping on an extreme-o hill, i bought a little flat pair of patent white shoes and the problem was basically solved. other than that dillema, it was a really perfect afternoon, it was sunny and bright outside so we didnt have any problems with cramming in tons of stuff to do.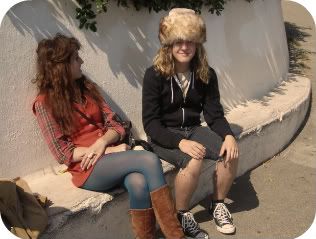 so, breakfast for my mom was a ghiradelli brownie sundae, and believe it or not it was really easy being a vegan in a chocolate store this time. sometimes, watching someone enjoy a giant fatty dessert is enough to turn off my appetite completely.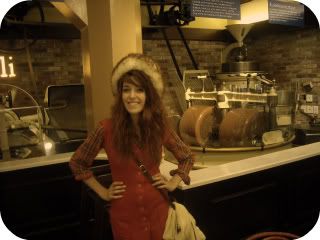 at the fountain at ghiradelli square, with gross buttcracks in every picture and cornelius the corn mermaid baby. sonja's face is cute.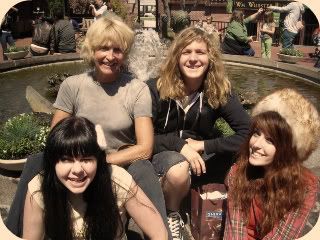 walking and wondering what characatures of ourselves would look like.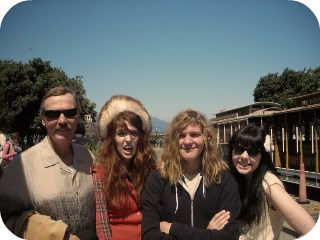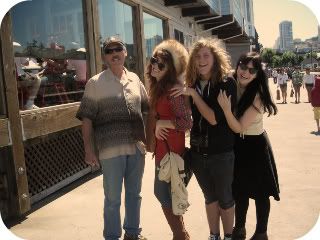 lunches at the boudin bakery
cool sourdough bread animals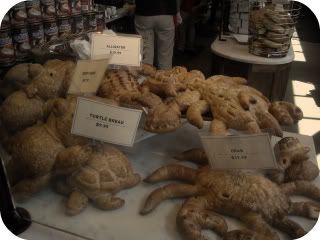 our favorite friends, the sea lions, and jens with a sea lion head implant.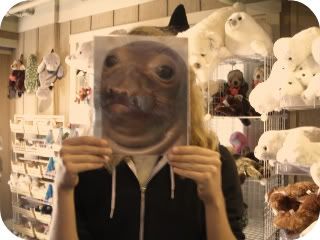 family funtime.
its sooooooo good to be home,though.