SATURDAY
saturday was fun because i had better shoes on, the weather started out alright and we happened to stuble upon a nice garage sale walking to haight street. we had vegan donuts for breakfast (spelled donuts or doughnuts?) and my mom claimed to have eaten a brownie with pot baked riiight in.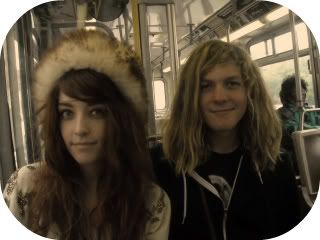 we saw sonja walking on the sidewalk after hoppin on this bus, so we got off and walked from there. i wore that seersucker dress that youve already seen, so id rather not talk about that. i did find out with the help of some family member, i forget who, that there were little beaded embellishments on the inside of my cardigan sleeves, which made my outfit feel fresh to me anyway.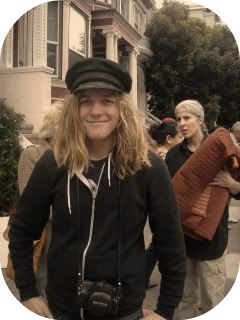 here we are at that garage sale. jens found this really awesome hat with ropes and other pretty things on it, and this cool long wool coat with yarn tassles and big metal studs, it looks like a piece to a band costume, perhaps? i bought two pairs of shoes, a red leather kitty heel and a gold sandal, found some glasses i intended for bryan but which he doesnt care for too much, and some fabric for free. also in the free box we found little gold balls on sticks, and a green curtain or table cloth that im sure will look good made into something. plus, it was free. i forgot what sonja found, but we also bought a stupid looking but handy roller backpack that we had to get just to stuff our things into, but it ended up helping us alot because we probably couldnt have fit the rest of our stuff in our already overpacked bags, otherwise.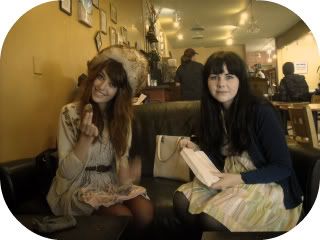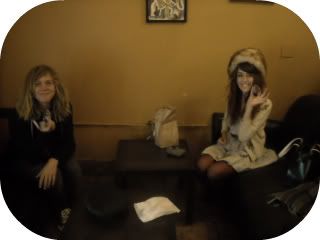 vegan donuts were the best things ever, jens and i split a lemon donut, chocolate-coconut donut and blueberry donut together and my favorite was the blueberry. i was really excited about it, but bryan is sick of hearing me talk about it so if vegan treats dont freak you out like they do for me, feel free to skip this paragraph. id like to look up a recipe, but at the same time id only want to make a few, and i dont love the idea of frying myself a whole batch and not having anything to do with the oil? you know? ill just wait until i find myself cooking breakfast for a large group of people. mabye when we go up to the farm i could try out a recipe? ill explain me and bryan's plan for portland/san francisco/wherever else Thanksgiving break exploration whenever the plans get more solid.
after this we checked out some vintage shops and other things and some silly giftshop to kill time, where my mom played candid camerawoman.
we didnt buy anything there, instead heading over to ameoba records where jens bought a "sounds of the ocean" record in a biodegradable bag, which sounds hilarious, and then off to the king tut exhibit. my mom bought scalped tickets which induced a major freakout by everybody, but then got in and enjoyed the alien headed artifacts.
today bryan is off at school, im sittin and knittin and ive made an appointment to meet with the board of trusteees man on friday at ten. tomorrow ive got open house which ive got to attend for my school. just stupid stuff.