bryan and i may do something today, so instead of hangin out in my pjs all day i thought id slip into my new dress, one ive made just this week with some fabric my mom couldnt use.
its a pink stretch floral with a navy gingham ruffle and the waist is made out of the gingham,too. it has a gold bow under the knotty top.im wearing with it a cardigan i bought forever ago and gave to my little brother, but borrowed for right now to make it more casual.
here jens is wearing another sweater i gave to him, but one i couldnt wear anyways so i didnt mind giving it away.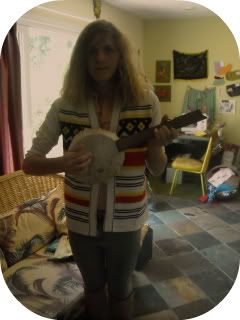 today ive been lying around the whole time and havent even made the bed. im crocheting a new pair of slippers and deliberating whether its worth my time to make slippers that wear out quicky, rather than just buy a pair that would last longer. hmm? im going to have to toss out a mint green pair i made not even that long ago, while salvaging the buttons and ribbon and stuff. that green pair was patched up with denim on the holes, too, and my left toe just broke through the other day!
ginger ale is by far my favorite soda pop. jens and i shared a glass, i wish they served it at seven eleven, imagine a big gulp of ginger ale! im no glutton, ive just picked up the nasty habit of saving calories to enjoy a soda midday and might keep it for the rest of the hot months..that reminds me ive got to do some research on non-vegan sugar so bryan and i can make sure were not sweetening out coffee and soda with sugar filtered through cow-bone coals!eek!