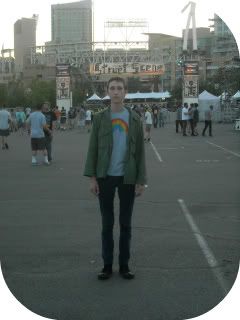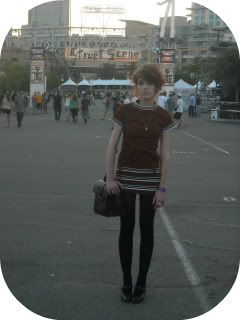 ayayayayyyy, a wasteland. trash everywhere, trashy people. major waste of dough. the best fun was hanging out in the hotel, and i think the lowest point might have been...well, i dont know, the part i remember the most clearly as a stinkin time was when i got sick from a lack of air in a crowd waiting for Of Montreal, but i think alot of the time we spent shuffling in and out of stage areas was not great. like bryan said, our world is way better than when we get out to spend time in other people's space. i dont feel like retelling the stories of drunks or dancers or creeps, its not something ill think about again or remember fondly.
i wore that brown dress i posted about around the fourth of july, which ive been sort of saving for then. tights werent the best choice, but with all of the sitting we did it was worth a little extra sweating, just so that nobody could see up my dress. what i regret wearing most was heels, but mine werent nearly as tall as some other ladies', so i knew i wasnt in danger of losing control and falling or something. bryan borrowed jens' glasses, which he is trying to keep! bryan also wore "old corduroy skinny pants that were very hot and that green jacket I hardly took off. Oh yeah, and Converses. And contraband taped to my crotch."
we didnt take pictures of our outfits the second day, but i wore a homemade dress. im making more, ill post about it whenever i finish.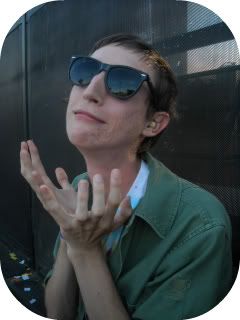 soon, ill eat lunch, and ill fix a dress up. today we may get together, but mabye not. itll be a nice day,though. bryan if you want these pictures without the rounded edge email me.