today has been a day-off of sorts for me, school, driving classes, a pleasant but nervous call to bryan were a little too much for me to afterward plunge into this week's worth of homework. i could have, but i made the decision not to. instead, i picked up this plaid wool dress ive been working with for a while now, only periodically, though, because ive been busy. the first day i cut it out and began, i got pretty far-i think i got the most of the bra piece done, but little did i know that after attaching a seriously heavy ruffle to the top it would weigh down itself and require some more work. the skirt was easy-ish, but boy, do i need to keep working on how to do a good circle skirt because this gathered skirt business isnt cutting it for me anymore. then came the pockets, which i did tonight, and were always part of the game plan, as well as some more snaps, hooks & eyes that i stitched in while catching up on some food network.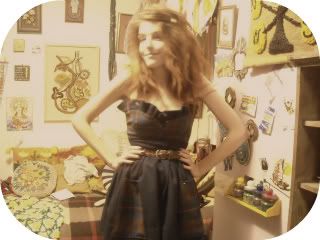 whats left to do will depend on how much of a fight the ruffles put up - im planning to make a criss-cross back jumper-type attachment, which will be sturdily stitched to the ruffle and hopefully support it.after, the snaps create a waffley front which im unsure about how to remedy, i thought a bow across the front could be a quick + festive fix, but i dont know how good that would look right on my bust...? and the buttons, which will be time consuming but relaxing, they'll be a pearly swirly creamy dreamy vintage "sierra" brand set. ill also consider buttons on the jumper straps (which would be mostly superficial to hide any big messy stitches) which may/may not be white now, because ill not have enough to button down the pockets( theyre really oversized) and match them with....yeah lots to think about.
i try not to, like ive said before, post pictures of me in my room but it might be the key more now than ever to keeping this blog up and frequently posted on, because bryan and i have parted ways for the time being and among other favors he did for me, taking pictures was one. i, also, will be puttin on the dog for coffee less,
which means less outfits even seeing the light of day. but ill try. this blog makes me happy, posting usually feels theaputic for me and having ten people even remotely care about what i do, let alone lend their support and commentary also makes me feel good.
im always feeling a little conflicted (i feel like i use that word every other sentence nowadays) about what is appropriate to post and what isnt as far as my relationship with bryan goes. this blog started off about 1 year ago as somewhere where i could talk about what im wearing, what im making, and a huge part of my life at that time-my single life and the misery of pursuiting bryan, in vain (or atleast it seemed that way at the time) after our origional breakup. it also gave me a place to write what i couldnt easily say out loud, and i dont want to miss out on that freedom, for myself. bryan probably will still enjoy reading what i write too, as we're still close and care alot about eachother and eachother's lives, and are, as i see it, in a supportive and loving relationship in which we're giving eachother room to grow.
so there you have it, pretty much all id be comfortable with writing. i dont feel ashamed of any of it or frightened to let anybody know whats happening, especially any tramps trying to make a move, haha.
welllll its a little hard to pick up any lighthearted topic after that and run with it, but i DID want to show you a little bit of some stuff i got at the swapmeet, as i think it would interest you.
here's one of three little stuffed animals from 1965 i bought for a dollar apiece. im not, by any stretch, a stuffed animal person (pillows are a whole nother story), but these were super charming and made me think of cereal box characters, and come to think of it, a few age-appropriate objects here and there might add another layer of interest and variety to the mix in my room. this is a skunk, the other two characters are a seal (which i think is my favorie, with the skunkie in second) and a milk cow, because cows should be loved and cuddled, not eaten. i plopped this skunk up here and immediatley knew it had to stay right there, but the other two made this cabinet look cluttered, so they lie ontop my telivision, waiting to be re-positioned whenever i want a better look.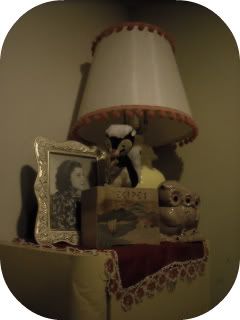 this is a cabinet, with a hankie used as a doily from the same estate sale. recipe box, old picture and lamp are from garage sales, and the skunk and owls are from the swap meet. the fabrics used in my dress were from misc. thrift stores where i live.
im exhausted, ill do somemore sewing since i cant say for sure when this will ever get finished at this rate.