today, like so many days before it, ive been working on homework while distracted by feelings and television, and interrupted by bryan and ronni and whoever else loves me or just feels like talking. things have gotten worse with bryan and, frustratingly, i havent been able to channel this energy into any other important thing, not even geometry which i thought would be easy. i picked up the books at about 1, fnished at 5, and after that i decided id like to do something little for myself. colin has alot of teeshirts he wants me to take in for him, and so does my little brother but its less of a priority with him because hes part of my family. anyways, ive been sort of dissapointed i havent been able to get colin his shirts done quick enough, but i didnt want to work on one when i saved myself an hour to do something nice, so theyll have to wait. instead of getting stuff done that i need to , after taking a break from doing other stuff i needed to, i ironed my hankies and pressed them into little squares.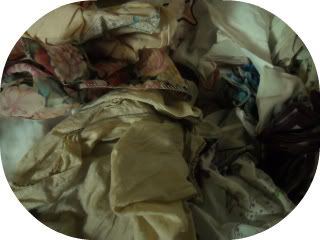 before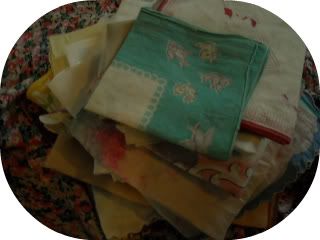 after!
it was nice going through all of them. i have ones that arent so great that i should use more and save the best for special occasions. im glad i stuck with the ratty ones this week as ive been doing alot of sobbing, though! some smelled like sunscreen, and there was one that smelled especially unusual that i couldnt recall the scent of, then remembered i had lent it to someone in science class and he washed it for me! he was bleeding.
i also pulled some little booklets from my shelf this afternoon, knitting booklets and lots of em! one is pretty ancient, from 1929, and insanely inspiring. others contain more basic patterns, which also inspire me and encourage me to learn to read patterns. plus, alot of them have really funny advertisements!