jensie and i have been spending a decent amount of time in the car rhyming things like prune+tune, Lueschen(my last name)+secretion and a few others i cant remember right now. i guess its a good thing that i dont always remember the jokes we make because im so boring usually, id probably just say them all over and over again until they werent funny at all.
today has been suprisingly easy goin'-no alarm clock i forgot to turn off set for 6:00, we werent out of coffee when i got up for breakfast, bryan and i had a nice little pow-wow at the cafe which was completely temper tantrum-free, homework was simple and i was finished very quickly..lots of nice things i could have enjoyed just as much seperately but together in one day made me glad. the best part of all and the key to a nice day for me is a pretty getup, which came together well in the last moments. i slapped on a pinkish floral sheer dress with a drawstring that isnt especially old fashioned but is homemade and is quite granny-like, which i appreciate. that, with an orange sweater (i wouldnt normally pair orange and pink but this looked pretty), my capsule necklace, my new navy t-straps, and my favorites: ratty knee-high rolled stockings. i always find myself pulling them on in a pinch-when its a little bit chilly, when my outfit needs something a little tonal or textured or id like to make a bigger visual impact. theyre my favorite of any old favorites.i havent worn them in a few seasons, so itll be nice to transition into the fall with them again.
last night i went to a concert with some new friends which had a very small turn out but was pleasant and fun, though i wasnt a fan of the band playing. when i think about it more, it mostly makes me want to find better music to listen to instead of complaining about not liking anything. this is another time when i wish i had hundreds of people reading my blog so that i could ask for help and some buddies with similar tastes could help me out. i didnt get especially gussied up but i did wear an apron, which have quickly become a staple in my wardrobe since seeing for myself how versatile they are, and with what ease i can take any drabbish outfit and make it fussy (in the best way) and pretty and new. i cant believe that during all of these years spent loving old clothes, i could have been trotting around in my mother's crisp aprons but they were hidden away and forgotten!its still fun,though, because its sort of like having a mini-estate sale in my house, because i find a new one i love every day!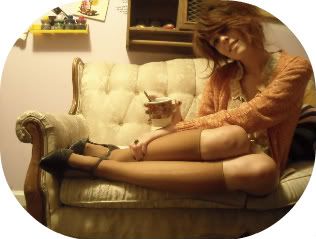 ive also found myself a tiny old loveseat, which ive been scouting around town for atleast 8 months looking for. im very happy with it, and ill re-arrange things in my room just as soon as i have enough time and a good idea of how itll all look. im going to paint also. im thinking a deepish plum trim, with a grayish hazely purple for the walls and mabye a red ceiling? its very daring, but i think its time to take my purple walls into my own hands and a loungey saloony feel would be just right.