my sewing machine is out of needles. alot of the time i overestimate the amount of fabric it can penetrate, or the density of the fabric it can get through.many coat projects have been halted by a broken needle halfway through the project, or jeans and that sort of thing. it calls itself the "jeans machine" but im not sure thats all the way correct. attaching the belt to the dress during this last project finished off the last of my needles, which is a shame but also a good excuse to get down to the fabric store and mabye pick out a few extras,too. im determined now to learn to do a zipper correctly-ill always use buttons and savor every pack of my vintage ones and use them often-but its high time i figure out how to install one correctly. ill probably pick up a few of those, plenty of sewing machine needles, and im looking for some new buttons for a big ole corduroy coat i bought at the swap meet a month or two ago. the corduroy has perfect buttons for it, its just missing one, so ive gotta replace em all.
this new dress was inspired by a hannah+landon photo, i believe she was actually modeling it for a designer instead of posing with a dress out of her personal stash.. oh well, ill take better pictures later. mabye ill let her know how much i loved it. i used a magenta fabric i had lying around and only modified it a little bit.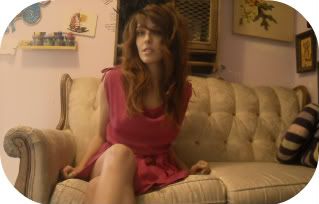 today bryan took me out to the palomar campus to see a performer, and afterward i picked up a transcript for my political science class i took over the summer. when i came home, i checked out my email and saw that im expected to attend some ridiculus student representative convention (im representative for my home school program) in san diego...yep i dooooont want to do that. student reps from all of california meet in san diego and eat lunch i guess?and discuss stuff. awesome.
lately the only thing that makes me feel better about my whacko boyfriend, homework overload and whatever other traumatic event that comes my way during the day is baking, though im developing an interest in cooking stuff other than sweets. i made banana bread last night and it turned out pretty fair, i didnt stick to the recipe totally (i used this indian flour i had lying around instead of whole wheat flour) but i think that is the only difference. i found the recipe here
http://thebakingbird.blogspot.com/2009/02/best-vegan-banana-bread.html
after popping around different vegan food blogs here and there, i found a few i really really like, with excellent pictures and opinions i can trust, also they seem to have really keen senses of spice, which always gets my mouth watering to hear someone talk about...mmmm spicy food! ill share any successful recipe here, of course. the only problem with this coking thing is the eating thing, and my lack of control in that department. ill have to watch it.