as you know, i started junior college on tuesday! its been pretty great, i love my classes, the only problem has been the constant rain! one focus in my fashion analysis class today was that "first impressions are lasting impressions" and i hope that nobody remembers me for the impression i left today...i sure was one "Haute Mess" running around campus with my western-style muumuu practically blowing over my head in the wind!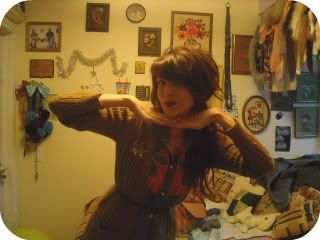 i wore my "sheriff Joshua" pin today to look even more western, which one of my classmates thought was "hot"..hehe.
i cant explain how great it is to be in school, now! i havent been in a school with people and classrooms for years, getting dressed and being out of the house for once are both so nice. when i come home the few hours before bed fly by really quickly, but i still find time for my crafts between classes and when bryan has class an hour or two before me, or gets out late. right now im working on an afghan! the last project i worked on before starting school was this embroidered pillow, for my friend, erika.
ill make one for myself soon. ive been working out this dress idea that i wish i had time to make right now, but ill have to pound it out this weekend or not at all! thats the only shame about not being home nearly as much.
now, to this Haute Mess Award!!
Annie, of "Annie, Time Enough For Drums" has passed the award onto me! If you havent been introduced to Annie yet, you must check out her "Summer Series". my favorite edition is #4, but i covet every dress she owns!
Now, seven random facts about myself
1. I like to think that im sort of psychic.
2. I am always, always wearing socks at home.
3. I am a vegan 4 lyfe and i love vegan baking!
4. When i was a kiddie, I went fishing with my Poppy and when our marshmallow bait fell into the lake, i jumped in to save it and couldnt get back out!
5. Recently, ive re-ignited my love and obsession with Martha Stewart and especially enjoyed her "favorite cookies" DVD, which i highly reccomend to people who like cozy things.
6. Friday is my "clean sheets day".
7. On tuesday, i fell on the crosswalk (which had those raised bumps) and now i have 5 polka-dot bruises on my knee..now i look rugged, which is what i always wanted.
now, 7 bloggers who light up my day with their posts, and who also get to do the same to their favorite seven!
Blog Full of Jelly http://blogfullofjelly.blogspot.com/
Camelias and Crinolines http://cameliasandcrinolines.blogspot.com/
Erica Knits http://erica-knits.blogspot.com/
Tea With the Vintage Baroness http://lettersfromhomefront.blogspot.com/
Vintage or Bust! http://vintageorbust.blogspot.com/
Cornflower Blue http://cornflowerbluestudio.blogspot.com/
Wayward Sewing http://littlethistles.blogspot.com/
<3