school is tiring- i get home and everything seems like bad news. atleast on the days that i go til two thirty, that is. i even got an extra half hour of sleep, but that was because i forgot to set my normal alarm clock and i didnt have enough time to make my bed, which really bugs me.
i wore a homemade, calico, mismatched, patchy-worky dress that came with long sleeves that had mud or coffee or chocolate frosting all over them, and of course a skirt all the way to the floor. i weighted the hem of the skirt (its short and voluminous, which spells disaster for me) with a tatted lacy trim thats very substantial and i bought it at the flea market when a woman who had bought out an antique store was selling their old goods..it was quite a deal and ive still got plenty left.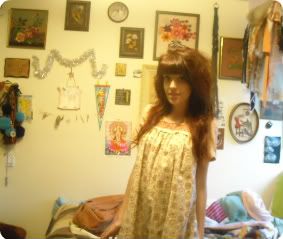 the collar has two tiny owl buttons, which really sold me on the whole dress when i found it (on my birthday).
i also cut my bangs shorter, for a couple reasons.
1. every time i go over to "rockstar diaries" blog i just deal with an intense urge to cut myself some bangs, but this time i had been trimming them up almost every day and decided it wouldnt be a biggie
2. i like my eyebrows
3. i have intense cowlicks that made it nearly impossible to keep my sideish bangs in place- theyd twist off in either direction no matter what i did..i figured if i cut them straight and forward i could just meet them in the middle.
theyre allllllright, but i liked the side swept version better. we'll see.
i also wore this dress on saturday out with bryan to the Amvets store in escondido. there was massive hype about the whole place and we were expecting to really strike gold, but not so much. i was more excited about the housewares i found than the coat and velvet dress, which are still truly great. the best of those home furnishings was this wall-mounted shelf made from a laboratory chemical crate and decoupaged with floral wallpaper.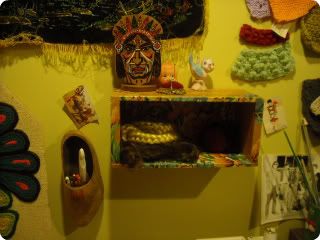 next to it is a wooden clog filled with my crochet hooks, a la "dottie angel", check out her blog if you love to crochet, im tellin ya.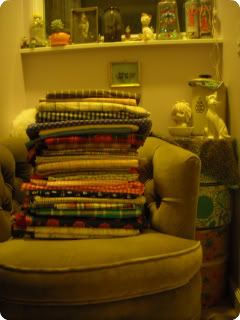 now heres the real kicker, all-you-can-stuff-a-fruitcrate-with fabrics, ten buckaroos at the flea market..truly the find of the decade and theyre not just any old fabrics, theyre gorgeous ginghams, plaids and a few florals from the sixties. im not sure about all of them, but im thnking theyre atleast mostly vintage, and even the ones that might not be are smashing. it was like christmas, or more like how i wish christmas was!!