this weekend, Erika and i went down to the Elks community flea market and really scored! We found at the end of the morning a stand selling just theeee best vintage stuff for a dollar apiece! of course, erika and i bought like 20 things..hahaha. i still havent gotten around to sewing my thrift scores from two weeks ago (cause of my cold!) but as soon as all of these things are hemmed and repaired and squared away, ill have many pretty outfits to chat about.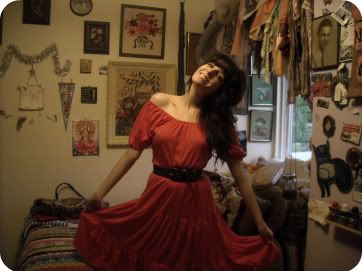 this is a tiered, red, polyester dress which i wore with a donkey necklace and my baby blue hair bow (not pictured). it was the first really hot day id had for a while, since i was in bed all weekend, and it was so nice to get out of the house without a sweater or a coat or an umbrella. Long dresses are comfortable right now.
i went down to the beach and ate a burrito, then when we were walking around i found a decomposing crochet hook in the rocks! it was waiting for me to take home..unfortunately during the weekend and monday that i took off, i didnt feel much like sewing anything or working on my crochet. I can only work through projects little by little now, ill need to adjust to that eventually.
next week is spring break, yippee!