today has been stressful,tiring and traumatic..but because i knew it would be this way before i stepped out of my house this morning, i put on my tuff guy boots, which some gardener on campus complimented me on almost immediately. i got to sit in a police car, if that gives you any clue as to just how insane today actually was. It sucks alot that my schoolwork has been made so much more difficult to focus on since all of these crazy things have been happening to me, but at the same time id rather have my social life and important things happening concerning people and things be setting the tone of my weeks as opposed to homework, tests and waking up too early.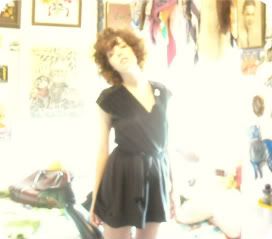 velvet dress-estate sale
monogram pin-flea market
riding boots-flea market
hose-flea market
I like to wear black dresses when i find one i actually like..this one is really easy to wear and the velvet makes it more cozy and a little bit fancier than any normal black day dress. Sinead has converted me and now i prefer tie or sash-style belts to leather ones.
now ive got to try and practice my Spanish and i dont know any of it because everyday this month ive been so stressed out i just sit in class asleep or daydreaming..im shooting for a 6-hour practice, since i know im gonna fail my final. Oh, one good thing that ive gotten to do in my Spanish class (other than learn tiny bits of Spanish) is watch pan's labyrinth, which im enjoying alot.