it's halloween and im home alone, eating my vegan version of halloween candy-dried pineapple and almonds. i got off a bizarre 2.5 hour shift that basically consisted of me putting away clothes. it sucked because i got dressed up for our employee costume, we were to dress "fashion-nerdy" and i looked totally cool..then we shut down early. i went to an off-the-wall work party last night though and i had a really good time! there was a dj and everybody was really mellow and nice and i met alot of people. my coworkers are so cute and funny.
heres an older picture from san francisco taken by sonja's friend, fuchsia!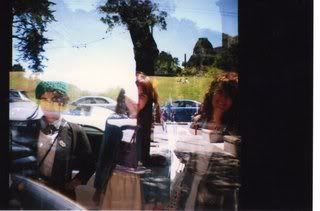 i havent been taking any of my own pictures lately because i dont have any batteries.
its sunday and tomorrow starts a new workweek..itll be a rough one but thats ok. im hoping my life will calm down when im done with this top and skirt for my collection.