last weekend sinead, sinead's boyfraan and i went to a halloween party which was pretty fun until the police came (one of the problems with trying to get my groove on while being underage) so we instead went to karaoke night at friday's which was hilarious and even more fun than the party, actually. sinead belted out a tune which made my night, and i got home early enough to get to work the next morning. i have work on halloween, though, so sunday sinead and i might go to our fashion illustration friend's party which ill wear a different costume to, probably.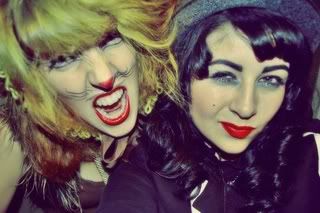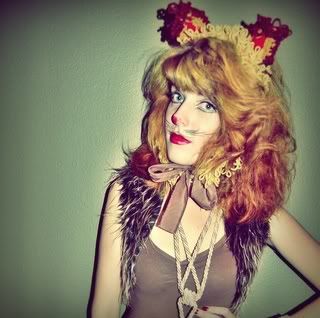 we went as a lion (me) and a ring leader (sinead) and sinead and i put together her boyfriend's bullfighter costume with an awesome bolero we found at st. vincent's.i crocheted my hat and sewed fur spats with claws on it and a tail and furry cuffs. sinead wore a leotard i lent her from my perrrsonal costume collection which had awesomely bad sequins and fringe on the sleeves.
as usual ive been really stressed out with my collection and homework (which truthfully i should be working on now) but i love the weather lately and i wish i could get out to go for a walk in the nature preserve or something tomorrow. as usual fall brings back alot of memories for me and it makes me sad sometimes. i like the fall alot more than the end of summer, though.
mmmm bedtime. im eating some lime jelly my daddy made.