i've been semi-excited for my birthday. i'll be 19 on the 15th and it will be the last year of being a teenager. even though everyone else is coasting off the holiday good feelings, im basically miserable. so,ive been treating myself to nice clothes, leisurely naps and sleep-in days.
today my mom and i celebrated our joint birthday by taking a trip to the rose bowl flea market, which, if you havent heard, has been talked up to be the best flea market around for vintage clothing and furniture...and i was honestly really disappointed. not in the clothes, they were absolutely marvelous, but in the people and general attitude. when i first walked in and spotted soooo many handsome guys and pretty, hip girls cruising around i immediately thought "ahh my people!" but soon after i realized they were all basically wearing army surplus jackets and combat boots + some 90s inspired piece and a strappy, light leather bag. and when i shopped next to them, i saw them passing over gorgeous vintage in favor of the same thing: army jackets, pendleton-type serapes and what have you...and that's all well and good, but it was discouraging to me because i thought these were the sorts of people i was hoping to sell vintage to online, and i was SO off.
also, the flea market shoppers were sort of clueless about what an actual flea market/ thrift store is like, complaining about "rummaging through junk to find the good stuff" when all of the kiosks were vintage sellers..but i also appreciate it when people confuse vintage shops for thrift stores and vintage events like this for flea markets because that means more .50 cent vintage for me.
one thing that this sort of flea market is great for, though, is finding specific styles of clothing or any item that needs to fit a description. ive seen many posts through the years about Biba style, a art deco/psychedelic style based on Barbara Hulanicki's inspiring and revolutionary shop, so i've been adopting a darker, moodier color palette with velvets, laces, deep murky florals and romantic makeup and hair. i brought a gorgeous, i930s style gold, crocheted body stocking that perfectly fits the bill. i plan on wearing it with black sheers, pointy booties and a turban.
other than that particular dress, i saved my birthday money and found on the other side of the market the bargain, 5 dollar section (at last!) and indulged in 12 delightful vintage pieces. a pajama jumper, a red satin skirt with christmas appliqués, and a handful of wonderful vintage dresses, some of which match the romantic, deep Biba look im excited about right now and some that dont really suit that look (but are softer, more pastel-y, and still very romantic and nostalgic) sums up my haul. my parents found a 1947 Turner that they love, and my brother got a heap of albums which he always enjoys finding.
after all of this, we went out for burritos and i fell asleep in the car!
the goods <3
for christmas, my parents bought me a vintage 1960 Husqvarna sewing machine, which im in love with. i havent tried sewing with it yet, for i want to work on any important pieces for the fashion show with my old machine (that i know so well) without worrying about messing it up while still getting to know a new machine.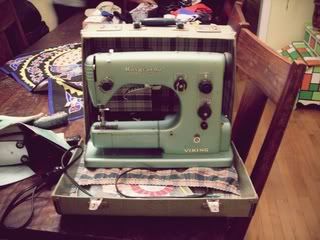 i'll miss my old machine, though!!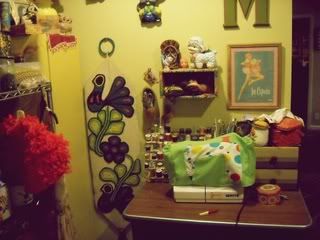 ..she'll be at sinead's soon, since sinead needs a machine so much.
it rained for like a solid 2 weeks or something nutty and my chickens and cats are so excited about the sunshine..it's the cutest.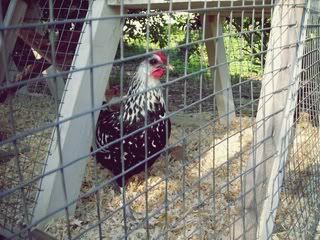 lil Dot, the baby of the bunch.
one last thing- i've settled on my new year's res. and that is...
...figure out a vitamin regimen and take my vites every day
yay!